---
My name is Guillaume Seyller, I am a visual artist and freelance worker in the fields of 3D and digital image.

I work with public body, recording studios, plastic artist or architecture offices, and take part in many productions by offering a global knowledge of digital sculpture, animation and rendering techniques.

I am involved in several high schools to help students develop their autonomy in the field of digital images.
---
JAUNT
Jaunt
is a video project carried out with the ceramic artist
Julia Huteau
.
A 12 cm high porcelain sculpture changes material and finds itself projected, gigantic and attentive, into the middle of a quarry in the Drôme region. Its smooth and translucent surface contrasts with the ocher stone that surrounds it, while a slow breathing seems to animate it.
The video is a slow back and forth tracking shot lasting 4 minutes towards the sculpture.
This piece was created as part of the Vrouge exhibition by Julia Huteau at the
Tator gallery
in Lyon, January 2023.
INTER DUAS AQUAS
---
Inter Duas Aquas is a nostalgic lullaby🎶 sung by a digital being, a traveler who finds itself stuck inbetween dimensions 🪢.

NON-FUNGIBLE LOVERS
---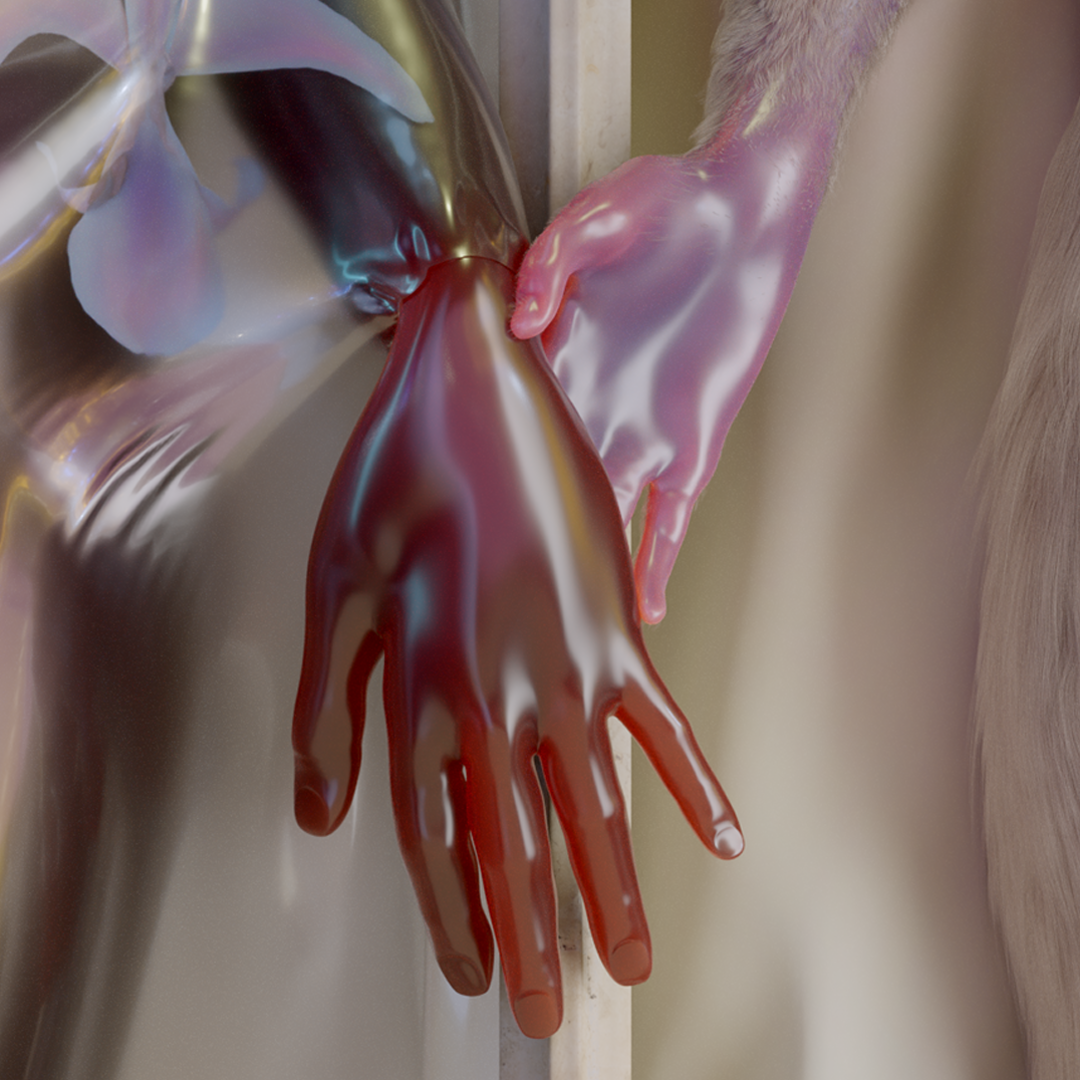 They pour their heart 💙 in an unalterable bound of passion and obedience, deliberately choose to remain enchained ⛓ in an endless string of records 📜.
Equipped ⚔️ with care for whatever may come 🕰, 𝔑𝔬𝔫-𝔉𝔲𝔫𝔤𝔦𝔟𝔩𝔢 𝔏𝔬𝔳𝔢𝔯𝔰 shall endure a peaceful eternity of decentralized, encrypted agreements 🔒.
This diptyque was created as the cover for the next release of
Mamma Rassise
📖 run by my own non-fungible lover
Marine Forestier
.
PREMIER QUARTIER: MÉMÉ OUDGOUL
---
In
this video
presented as part of the collective exhibition "Premier Quartier" at
MLIS
with the collective
Les enfants de Diane
, the character of Mo appears for the first time, inspired by Grandma Oudgoul in the novel
Terminus Radieux
by Antoine Volodine. A symbol of pugnacity and independence, whom the radiation from failing nuclear power plants has made immortal in a post-apocalyptic USSR, Mémé Oudgoul no longer reports to anyone. She has gone beyond the theoretical limits of life to become a mythical character, inhabiting the earth no longer being subject to its physical, moral or administrative laws. Freed from these constraints, accompanied by the attributes of the goddess she has decided to become, she patiently redefines the rules of her existence.